About Francine
"Francine feeds her readers well – stomach and soul." — Rachel Ray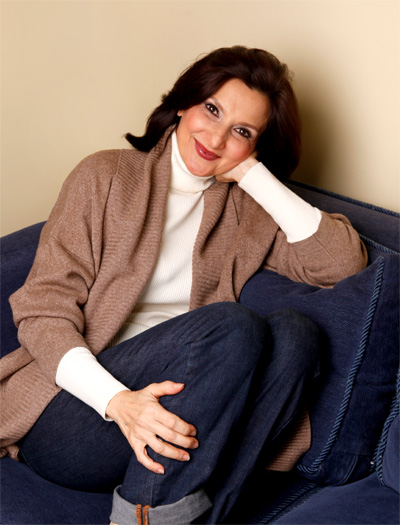 FRANCINE SEGAN, one of America's foremost experts on Italian cuisine, is an engaging public speaker, author and TV personality. A noted food historian and James Beard-nominated author of six books including Dolci: Italy's Sweets and Pasta Modern.
She is the host on NYC's popular weekly TV series "Americans who Love Italy" and appears on many other TV programs, including Today Show and Early Show. Francine has been featured on numerous specials for PBS, Food Network and History, Sundance and Discovery channels.
She lectures across the country, bringing her lively presentations to numerous Town Hall groups and Women's Clubs and has spoken at many prestigious venues including the Institute for Advanced Study at Princeton University, Smithsonian Museum in DC, Florida Film Festival and Virginia Fine Arts Museum. Francine Segan's World of Tastes is a wildly popular regular series at NYC's premiere cultural center the 92Y.
She has been a food judge for the Fancy Food Show, Baccardi Cocktail competition and the International Pesto Competition. She was given the honor of presenting Mayor de Blasio with Italy's 2014 prized white truffle.
She has collaborated with many regions of Italy to promote Italian food, culture and wine in the States and is the American spokesperson for several distinguished Italian companies. As spokesperson for Carrabba's Italian Grill, a chain of 350 restaurants, she is featured in their La Pasta Vita video series.
Francine co-edited Entertaining from Ancient Rome to the Superbowl, a 2-volume encyclopedia, which was a finalist for the coveted Gourmand World Cookbook Award given each year in Paris. She contributed the chapter on Ruth Reichl for the book Icons Of American Cooking and translated two books – Nutella Passion and The Pleasures of Espresso – from Italian into English for Giunti, Italy's largest privately owned publisher.
Ms. Segan writes for numerous online publications and magazines including Epicurious and Saveur. She writes extensively on chocolate and authored several chapters in Rutgers University's catalogue Bitter Sweet: The Chocolate Show and contributed the chapter "Italian Desserts" for the Oxford Encyclopedia of Sweets. She also recently wrote a twelve-page cover feature on Italian chocolate desserts for La Cucina Italiana magazine.
Francine Segan is a frequently consulted expert and has been quoted in numerous newspapers and magazines including the New York Times, Wall Street Journal, Vogue, Scientific American, USA Today, L.A. Times, and Chicago Tribune.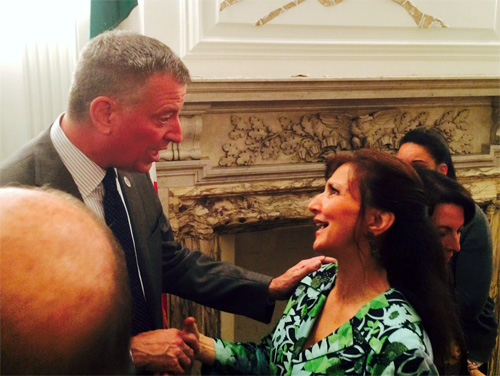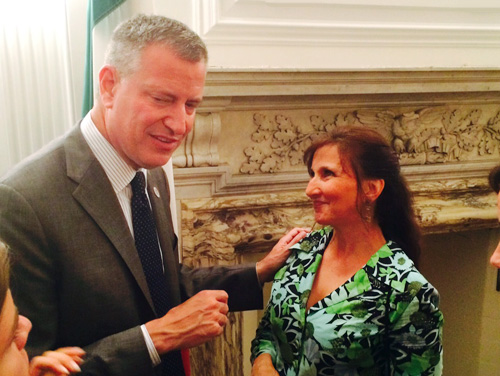 Francine with Mayor Bill de Blasio