Lecture Topics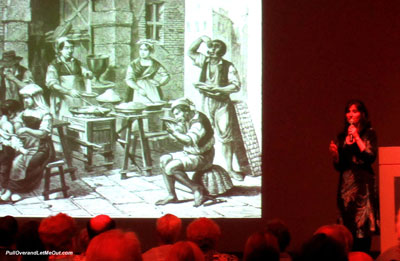 Francine Segan is available to give talks on a variety of topics, both general and historical in nature. Please contact Francine if you wish to schedule a lecture, or view her upcoming talks for lectures already scheduled.
Click on one of the topic titles listed below to view the description of the talk.
General Topics
PASTA: The long & the short of it!
Pasta – hands-down Italy's most famous food – comes in hundreds of shapes and is served in thousands of ways. Join Francine Segan, author of Pasta Modern, for an amusing talk on its tantalizing history, interesting regional dishes, and what's cutting edge in Italy today. Learn how artisan companies such as Felicetti make their award-winning pasta.
Talk includes:
Tastings of several pasta dishes
How to pick the best dried pasta
The perfect way to boil pasta
Pasta Lover's Tour of Italy
Trivia contest with prizes about modern & antique pasta making equipment
Dining at Downton Abbey
Discover the elaborate etiquette, enchanting entertainments and dishes Mrs. Patmore would have been proud to send to the table. Vivid descriptions of Lord Grantham-esque dinner parties, cotillions and elegant picnics will transport you back in time, while you learn all the popular toasts of the era and when it's proper to remove your gloves or tip your hat. The event includes a trivia contest on the uses for now-obsolete objects that Mr. Carson would be shocked to find you couldn't use properly, tastings of popular tidbits, garnish-making demonstrations and recipe handouts.
Dinner & Drinks with Don: Mad Men Meals
From Old Fashioneds to fondue, Mad Men is full of drinking and dining. Discuss the show's famous food and drink scenes, see real food ads from the era and learn more about the heyday of both Jell-o molds and Julia Child. Taste popular '60s cocktails and nibbles, wear your favorite '60s clothes and compete for prizes in a Mad Men trivia contest!
Chocolate 101: History and Tasting
Discover chocolate's history, starting with its New World origins, journey to Europe, and transformation over the years that turned it from a grainy bitter brew into the treat we know and love today.
Learn how chocolate goes from bean to bar as you are guided through a tasting of various types of fine chocolates. Discover the roles Christopher Columbus and Casanova played; how decadent 17th century European high society experienced chocolate; and how candy is made today.
For Movie Lovers
A wonderful event perfect for all movie buffs and food lovers! Film buff, cultural historian and author of Movie Menus dishes amusing tidbits on the meaning of food in our favorite films. Behind the scenes peeks at foodie film moments in such classics as Big Night, Babette's Feast, and Animal House. See hilarious film clips including Five Easy Pieces in which Jack Nicholson may be the first in celluloid history to have an order prepared "your way."
Lecture includes:
Nibbles inspired by this year's Best Picture nominees
Popcorn tastings
Hilarious film clips of favorite food scenes
Movie trivia contest with prizes
For Opera Lovers
Author of Opera Lover's Cookbook discusses the fascinating role of food in opera using amusing film snippets and stills of memorable dining and toasting moments in opera.
Discover tantalizing trivia like the operatic origins of Melba Toast, why Rossini added special "sorbet arias" to his operas and why great composers such as Verdi encouraged gambling during performances. The talk concludes with a humorous look back at the opera theater experience in the 19th century and a tasting of opera inspired foods. Great music and great food make an exhilarating duet!
Dessert's Sweet History
Sugar and honey have been prized for centuries, not only for their delicious taste but also as curatives for everything from melancholy and impotence to headaches. This fascinating whirlwind tour on the history of sweets starts with the amusing ancient Greek myth about honey and traces all sorts of desserts through time and cultures all the way to the modern day origins of our favorite candies. Learn about the unusual spices and ingredients added to desserts through the ages as well as the story of our favorite pies, cakes, puddings and ice cream.
Includes tastings of unique desserts from around the world.
Aphrodisiacs: Myth or Reality
Join Francine Segan, noted food historian and cookbook author, for an amusing discussion on aphrodisiacs from ancient Egyptian times through the Middle Ages, Renaissance and into today. Discover the foods reported to have unleashed passion in everyone from Cleopatra and the Marquis de Sade. Explore the stories behind aphrodisiacs like frog saliva, rhinoceros horns, oysters, truffles and caviar.
Tantalizing trivia includes why the ancient Romans ate bread shaped like a penis, which veggie was responsible for King Henry VIII's renowned stamina, what foods Casanova served to insure a passionate partner and the erotic origins of the champagne glass. Hear the bawdy jokes, riddles, and puns told during the Renaissance to heat up aphrodisiac dessert courses. Includes a sampling of classic aphrodisiac dishes!
Coffee: Tasting & History
Discover coffee's exciting African origins and checkered history. Learn why coffee was eaten and not drunk in ancient Africa, why it was first drunk as a wine not a hot drink, and how the bean traveled from it's native Africa around the world to Java and beyond. We'll discuss how coffee is grown, roasted and even how it's traded on Wall Street.
See raw coffee beans and trace the roasting process through an exciting powerpoint presentation. Taste several types of coffee including Kenyan, Blue Mountain Jamaican, and Java and several roasting methods including light city roast and French-Italian roast. Learn how to make a perfect cup of coffee and how to cook with coffee in this fast paced fun class.
Tea: 101
Tea was once so valuable in America it was kept under lock and key! Discover tea's ancient origins and the fascinating story of its world journey. Learn how tea is grown and about the many varieties-white, green, black and oolong. Japanese tea ceremony and English High Tea history explored. See antique and modern tea accoutrements and learn the history of the tea bag.
See various types of raw leaves and taste a variety of teas and tea-infused foods. Learn to brew the perfect cup of tea and even how to cook with tea!
Dessert Wines: Talk & Tasting
Forget about coffee, tea and cake! The chic way to end a meal is with a light, refreshing glass of icy cold dessert wine. Join cookbook author Francine Segan as she introduces you to the wonderful world of after-dinner wines including late-harvest wines, fortified wines and ice-wines. Discover the reason dessert wine makers have to wear mittens at harvest time and why it's great for grapes to get "noble rot"!
Sample a wide range of wines including Sauternes, ice wine, sherry and port and learn the perfect desserts to pair with each.
America's Sweet Tooth
Trace America's sweet tooth back to 1776 when ladies sold delicious brandy and fruit flavored "Election Cakes" outside polling centers during the all-day voting process back then. Discover what happened to desserts during WW II sugar rationing and why the expression, "American as apple pie" is a huge mistake.
Learn the amusing history and fun stories associated with some of our most loved desserts: Martha Washington's Currant Cake, Boston Cream Pie, Pineapple Upside Down Cake, Chocolate chip cookies, the 1930's classic "Mystery Cake" and many more.
Includes wonderful dessert tastings and recipe handouts, so you can indulge your sweet tooth at home too.
Food Superstitions
A fascinating look at gastronomic superstitions through the ages. Discover the origins and anecdotes behind the foods believed to bring good luck. Learn about the must-serve New Year's Eve recipes to insure prosperity. Discover which foods were eaten for fertility or as aphrodisiacs and which foods foretell the future. Discover details on how to "read" coffee grounds and tea-leaves.
Includes a tasting of several good-luck recipes!
What's New In Noshing
Explore topics ranging form new restaurant trends to the latest food products in this exciting look at what's hat and what's not in America's dining scene.
Learn about top chefs and their signature dishes, how to find unique products, fun food shows, and free product samples as well as free wine and cheese tastings in your area.
Historical Topics
Pharaoh's Party: Entertainments in Ancient Egypt
An entertaining and informative foray into the delicious foods and lush dining customs of ancient Egypt, which includes a presentation of Egyptian art and artifacts and a tasting of modern-day Egyptian delicacies.
Discover fascinating tidbits about Cleopatra's dinner parties including why guests wore wax cones; how Egyptians kneaded dough with their feet; and the must-serve foods for pyramid builders. Learn about the wonderful foods of the lush, fertile Nile Valley and the centuries old health secrets and remedies of the ancient Egyptian Pharaohs, including their long list of aphrodisiacs and foods that accompanied them in their tombs.
Dinner with Socrates: Feasting in Ancient Greece
Author of Philosopher's Kitchen, Francine Segan, entertains with tantalizing tales on the foods and dining customs of Ancient Greece including the philosopher's writings on wine, health, and even dinner party seating!
Discover the ancient Greek food myths on everything from how Athens got its name to why Zeus punished the honey-bee. Besides learning the origins of candles on a birthday cake, flower girls at weddings, throwing a pinch of salt over our shoulder, and what the first Olympic athletes ate you'll discover the health secrets of Hippocrates, Plato, and Socrates. Includes samplings of mouthwatering dishes from antiquity.
Feasting with Caesar: Lush Life in Ancient Rome
Journey back to ancient Rome for a peek at daily life in Caesar's time.
Discover citizens' routines like workouts and steam baths at the public gymnasiums, amphitheater events, strolls through market places and evenings spent at lavish feasts. Learn about the delicacies, etiquette and dining oddities of the time. Hear the latest jokes and gossip that would have been shared at meals.
The King's Table: Sea Serpent Stew & Dragon's Brew
The Middle Ages has long fascinated the imagination with tales of brave knights, fearless Kings and fire-breathing dragons. The feasts of these adventurous times were fanciful events where dinner guests ate concoctions like roast peacock on "bread" platters and were entertained by minstrels between courses.
Medieval hosts surprised guests with fanciful dishes such as tiny meatballs shaped like little pears, huge savory pies with animal claws poking out and baked dough "fountains" flowing with spiced wine.
Using medieval paintings and other images this lecture recreates the splendor of Medieval feasts.
Includes a tasting of an authentic, delicious Medieval recipe.
Shakespeare's Kitchen: Feasting in the Renaissance
Besides learning why folks back in the 1500s clinked glasses to make a toast you'll discover the reasons they never put a vase of flowers or their elbows on the table, wouldn't eat with forks and why "4 and 20 blackbirds" really were baked in a pie.
The talk is sprinkled with tempting tidbits on the fanciful foods and aphrodisiacs, intriguing table manners, etiquette and unusual dining customs, like telling of the amusing jokes, puns, and riddles between courses.
Victorian & Gilded Age Entertainments
An amusing lecture on the fascinating time period when high society was at its peak. A time of calling cards, horse drawn coaches, high tea, cotillions, lawn parties, formal dinners… a time when even picnics were served on fine china.
Discover the sorts of foods, elaborate etiquette, and enchanting entertainments enjoyed then. Francine's vivid descriptions of formal dinner parties, cotillions, and elegant picnics will transport you back in time. Learn the 19th century meanings of giving a lady a tulip instead a rose; discover the most popular toasts of the 1890s; and when it was proper to remove your gloves or tip your hat.
Highlights of the talk include:
Trivia contest on the uses for dozens of unique but now-obsolete objects from the era
Tastings of a popular 19th century tidbits
Handouts of unique recipes of the era
Demonstrations on creating 19th century garnishes
Picnics
A delightful look at the history of outdoor dining starting in the Renaissance with Queen Elizabeth's hunting picnics, and moving through to the Gilded Age and into modern times.
Learn about famous picnic hosts and the sorts of fun and fascinating picnics of the Gilded Age, which include the picnic exploits of celebrated Newport bon vivant Ward McCallister. Discover the wonderfully easy-to-transport foods of the past as well as present-day innovations in picnic food and supplies.
Includes a tasting of Gilded Age picnic fare.
America's Food Fads from the Roaring '20s to Modern Times
Explore each exciting decade through its food and social etiquette. Learn about popular '20s foods like "flapper pudding" and "sorority salad" inspired by the rise in women's rights and about "ice box cake" created thanks to the invention of the refrigerator.
As we move into the '30s Depression era with its unemployment lines, soup kitchens, bread lines and apple sellers discover the new value placed on home entertaining. Discover the story behind '30s foods like pineapple upside down cake, "Betty Co-Ed sandwiches", salad fantasies, and the new post-Prohibition cocktails and cocktail party foods.
WWII brought shortages and inspired "victory gardens", home canning "meatless Tuesdays," "No ration-point" menus, and sugarless desserts. The suburbanization of '50s sparked cocktail parties and backyard BBQs, and the '70s and '80s new gourmet awareness. Learn about America's diet crazes each decade and much, much more!